Blurred Lines
Girl Be Heard's MainStage Show 2017
Directed by Tiff Roma
Produced by Jessica Greer Morris
When did we stop listening to each other? How did self-entitlement and lack of empathy for one another become normal? At what point did it become acceptable—even sexy—to sing about sexual violence, to laugh at jokes about rape?
Blurred Lines is a performance and a conversation, one that draws attention to the profound impact of rape in our society and challenges audiences to reflect on the roles we all play in a culture that promotes silence and blurs the lines of consent.
By taking the shame out of talking about sex and sexual assault, Blurred Lines inspires healing through storytelling and empowers a new generation of leaders to end cycles of sexual violence, from inside the home to college campuses and beyond. Now more than ever it feels crucial to engage, educate, and empathize with one another. Join us in witnessing the brave, original work of our inspiring artist-activists, and sharing their stories with the world.
Cast
Gabriela Carrera, Maria Diez, Allison Flom, Ray Johnson, Jesse Krebs, Me'Khai Lewis, Jewel Phillips, Jai Raphael, and Annalise Wedemeyer.
Production Staff
Director Tiff Roma
Advising Director Kim Sykes
Executive Director Jessica Greer Morris
Choreographer Ian Fields Stewart
Dramaturge Jen Thatcher
Stage Manager Cristin V. Gordon
Assistant Stage Manager Chiara Johnson
Set Design Becca Kleinman
Lighting Design Jason Fok
Costume Design Laura Wynne
Music Contributor Bush Tea
Multi-Media Consultant David Palmer
Performance Dates

Thursday, February 9th at 7:00 pm
Friday, February 10th at 7:00 pm
Saturday, February 11th at 7:00 pm
Sunday, February 12th at 2:00 pm
Thursday, February 16th at 7:00 pm
Friday, February 17th at 7:00 pm
Saturday, February 18th at 7:00 pm
Sunday, February 19th at 2:00 pm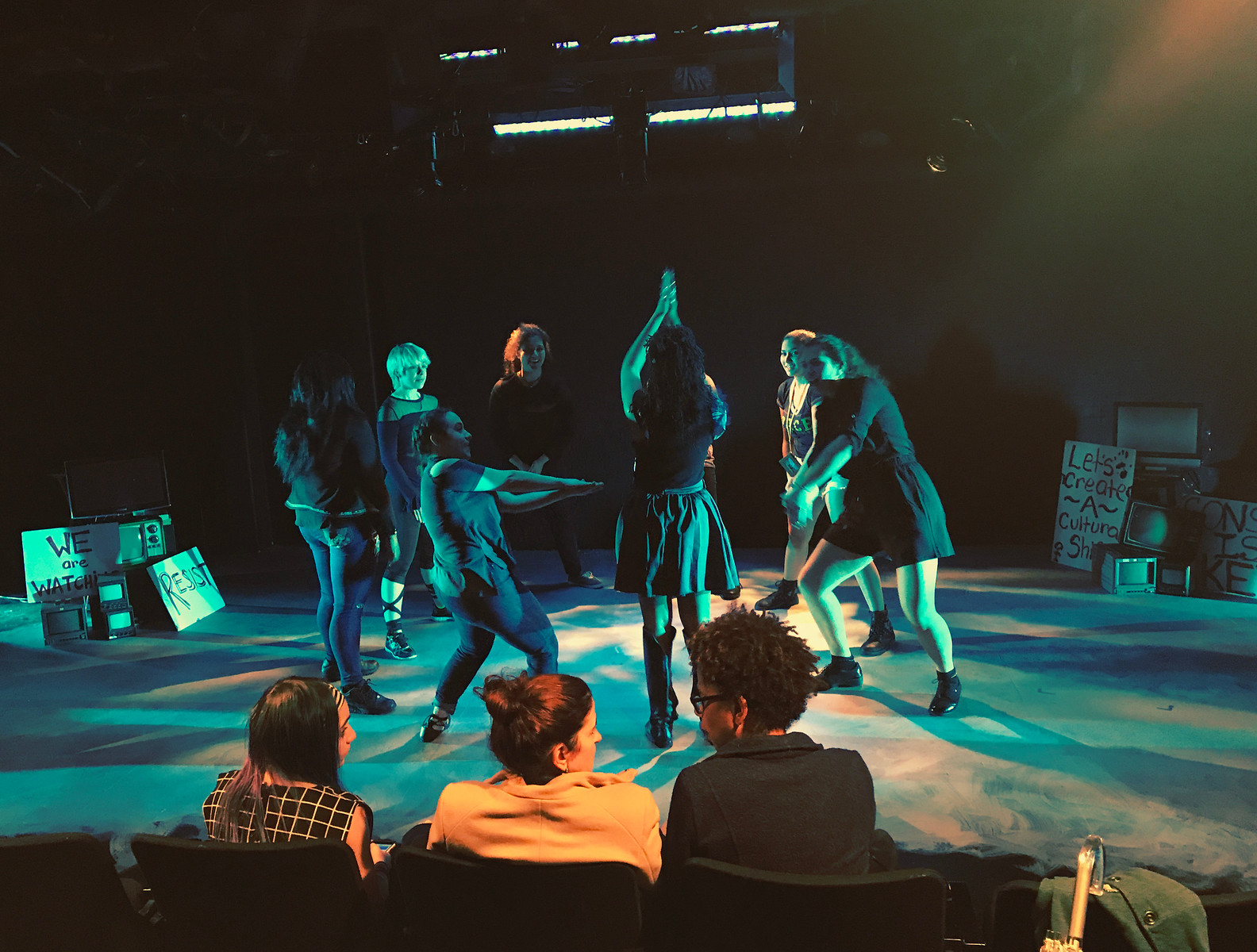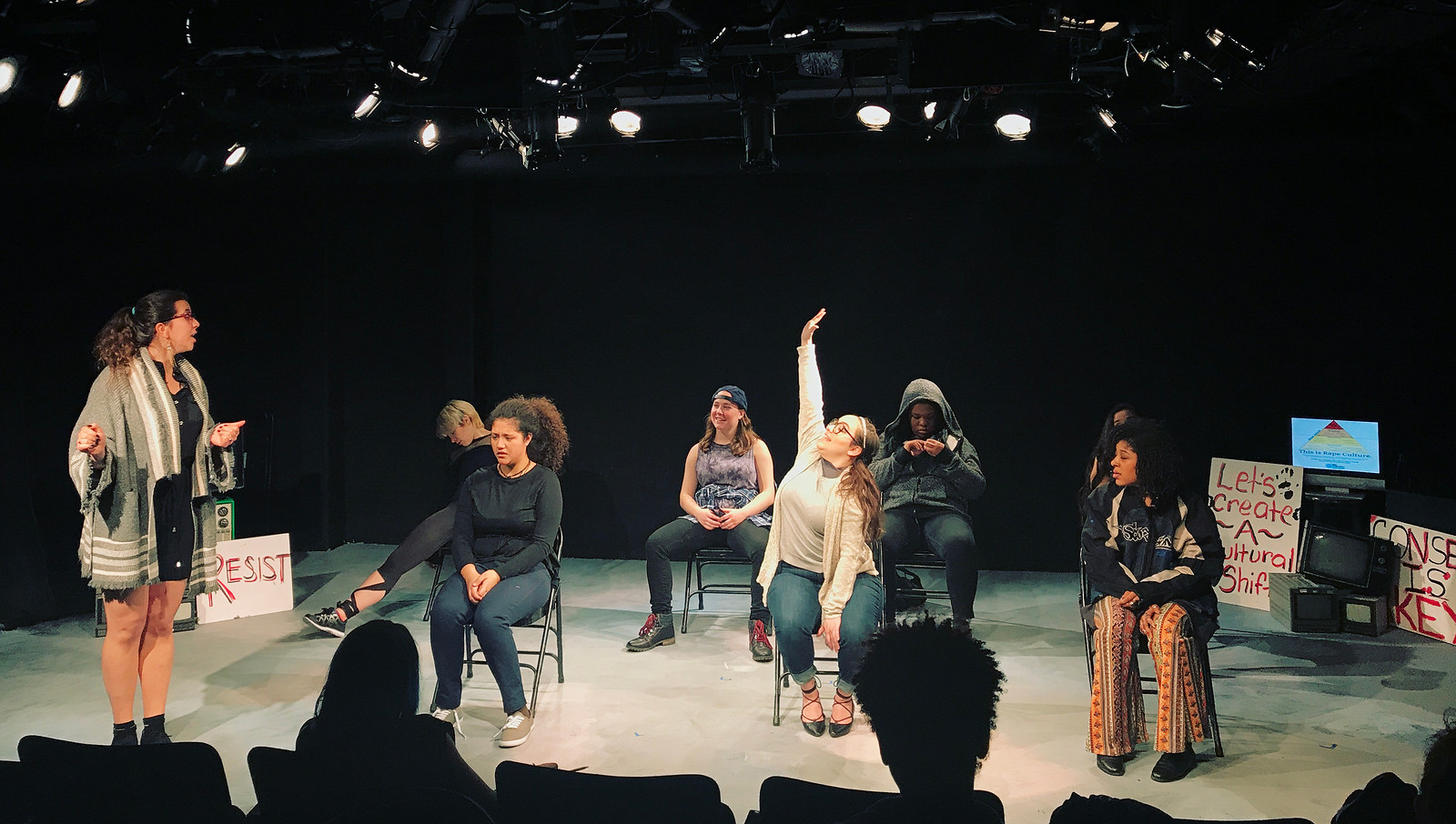 Locations
HERE
145 Sixth Avenue (enter on Dominick Street one block south of Spring Street)
New York, NY, 10013
Blurred Lines
Maxamoo (Podcast, Feb 22)
Theater Review (NYC): 'Blurred Lines' from Girl Be Heard at HERE
BlogCritics (Carole Di Tosti, Feb 22)
Review: Blurred Lines
StageBuddy (Tami Shaloum, Feb 21)
Review: Blurred Lines
Theatre is Easy (Adrienne Urbanski, Feb 17)
Award-winning ensemble Girl Be Heard combats rape culture in new show "Blurred Lines"
AFROPUNK (T. McLendon, Feb 17)
Blurred Lines: A Revolutionary Show Revealing America's Problem with Rape Culture
GO Magazine (Corinne Werder, Feb 15)
Heard and unblurred / Deshaciendo el silencio
Manhattan Times, The Bronx Free Press (Gregg McQueen, Feb 15)
Bejeweled Opera, Empowering Blurred Lines, and More Performance Picks
Bedford + Bowery (Cassidy Dawn Graves, Feb 8)
The best Off-Off Broadway shows in NYC
Time Out New York (Adam Feldman, Feb 2)
This program is supported in part by an award from the National Endowment for the Arts, as well as public funds from the New York State Council on the Arts with the support of Governor Andrew M. Cuomo & the New York State Legislature and from the New York City Department of Cultural Affairs in partnership with the City Council.