Thank you for being a part of our evolution
Dear friends,
Our favorite thing about Girl Be Heard is our community, which is why we're sharing some of our highlights from 2022 with you.
From our Radical Joy program theme to Unplugged: Our Existence is Resistance to Mainstage: Voices Be Heard the Musical, and most recently, our 2022: Gala: Evolution, we have built a strong community of activists (artists + activists), staff, supporters, funders, and donors who feel empowered to be part of our movement to nurture leadership through storytelling and performing arts. (More on this in 'Our 2022 in Review' below.)
We have so much to look forward to in 2023. But first, let's end the year on a powerful note. A report from the Women's Philanthropy Institute revealed that girls and young women receive only 1.9% of all charitable giving. Please invest in the future of girls, young women, and gender-expansive youth by making a fully tax-deductable donation today in support of Girl Be Heard's free year-round programming.
The future of social impact lies in community and you have shown us that the one thing that has stood the test of time and uncertainty is indeed community.
On behalf of our Company Members, participants, Teaching Artists, and all staff, thank you for your support and happy holidays!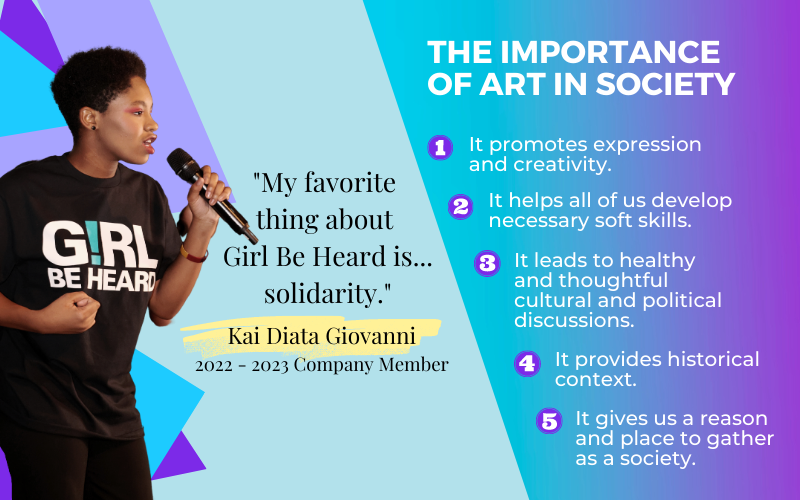 Our work of developing, amplifying, and celebrating the voices of girls, young women, and gender non-conforming youth through socially conscious theater-making, storytelling, and performance is more needed than ever.
Our participants represent immigrant communities, identify as LGBTQ+, the disabled community, or are involved in court or foster care systems. COVID-19 exacerbated deep-seated inequities in health and economic stability across these communities, with heightened rates of hospitalizations, fatalities, and economic hardships.
Our programs help young people raise their voices and call for justice for their families, friends, schools, and communities. Help us build more leaders, changemakers, and activities by donating.