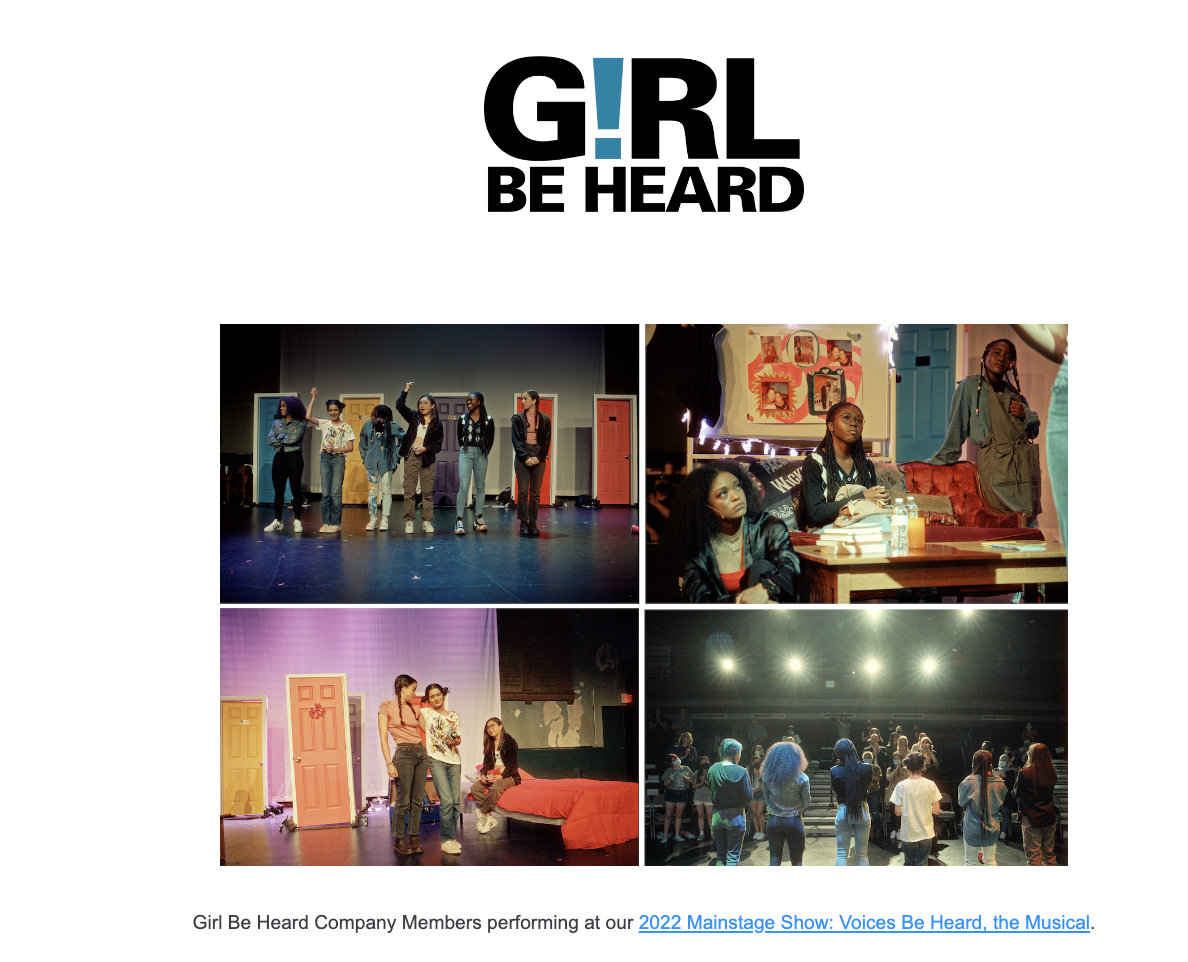 I hope this changing season finds you well and surrounded by beloved friends and family. The post and activist Audre Lorde once said:
"I am not free while any woman is unfree, even when her shackles are very different from my own."
We at Girl Be Heard would have to agree given the myriad of obstacles facing young women of color today from deep-seated economic inequalities laid bare by the pandemic and heightened rates of depression and anxiety, to the greatest racial reckoning in a generation and the recent threats to women's reproductive rights. Yet in spite of these fetters, the young people who pass through our doors find community, build their artivist (artist + activist) muscle, and evolve into mindful, socially-conscious, and inspired leaders ready to take on the world and armed with the tools necessary to uplift girls and women everywhere.
In a little more than a decade we have grown into a dynamic, multi-faceted organization that engages over 600 participants and 30,000 in audiences annually, We have performed by invitation across 12 countries. We have watched as our young participants develop into confident, empowered, and ambitious changemakers; going on to become BAFTA award-winning actresses, film stars, National Poet Laureates, and college graduates.
In a world that focuses on negative stereotypes, silences young women and girls, and perpetuates systems and practices that lessen their integrity and value, Girl Be Heard has become a driving force for change. Through the power of theater, spoken word, storytelling, and performance, Girl Be Heard continues to develop and celebrate the voices of those often ignored, bringing to the center of a national narrative bold, brave, and unapologetic voices that demand to be heard. Through our signature Weekend and After School Workshops, Mainstage and Community Performances, Immersion Camps and Online Workshops, Girl Be Heard provides a touchstone for so many young women and gender expansive youth, cultivating the artivists and changemakers that our world so desperately needs.
But we cannot do it alone. We urge you to make your fully tax-deductible donation today in support of Girl Be Heard's free year-round programming.
The future will thank you.